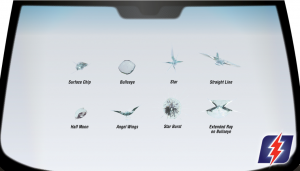 Do you have a chip in your windshield?
Can this type of damage be repaired, or does the windshield have to be replaced?
Below are some tips that can help you determine if your windshield should be replaced or can be repaired.
When do you REPAIR your windshield?
In most cases, a star chip can be repaired. This type of chip is common when a rock hits your windshield for example. A star chip has a distinctive shape, which typically has multiple cracks radiating from a central impact point. It's among the most common because it can easily happen while driving on the highway.
Repairing it is possible even on long cracks that span several inches. If the damage from the chip in your car windshield extends to the outer edge of the windshield, it's more likely you'll need a replacement since the structure of the glass may have been compromised.
When do you REPLACE your windshield?
Damage to the inside of the windshield cannot be repaired. If you have multiple or deeper cracks, the windshield needs to be replaced. We highly recommend getting the windshield replaced as soon as possible. Even simple bumps in the road can aggravate the crack.
Request an appointment today!
Your UniglassPlus technicians are experts in automotive glass repair and replacement and stay up to date with the latest technologies and techniques. We use only high-quality windshields from OEE manufacturers recognized by the insurance industry.
Our professional installation meets the highest safety standards. 
Take your appointment today !